Riikka
Kahogo no Kahoko
Drama Series
Kahogo no Kahoko was a drama that I started just for the sake of watching something, as the summer TV season didn't offer anything particularly interesting for me. However, with just three episodes in, Kahogo no Kahoko blew my mind away. Mitsuki Takahata balances sweet, innocent and funny masterfully as a pampered college student. I wasn't familiar with Ryoma Takeuchi's previous work but his powerful performance threw him right on top of my "this guy's one to watch for" list.
BILLIE IDLE
My Way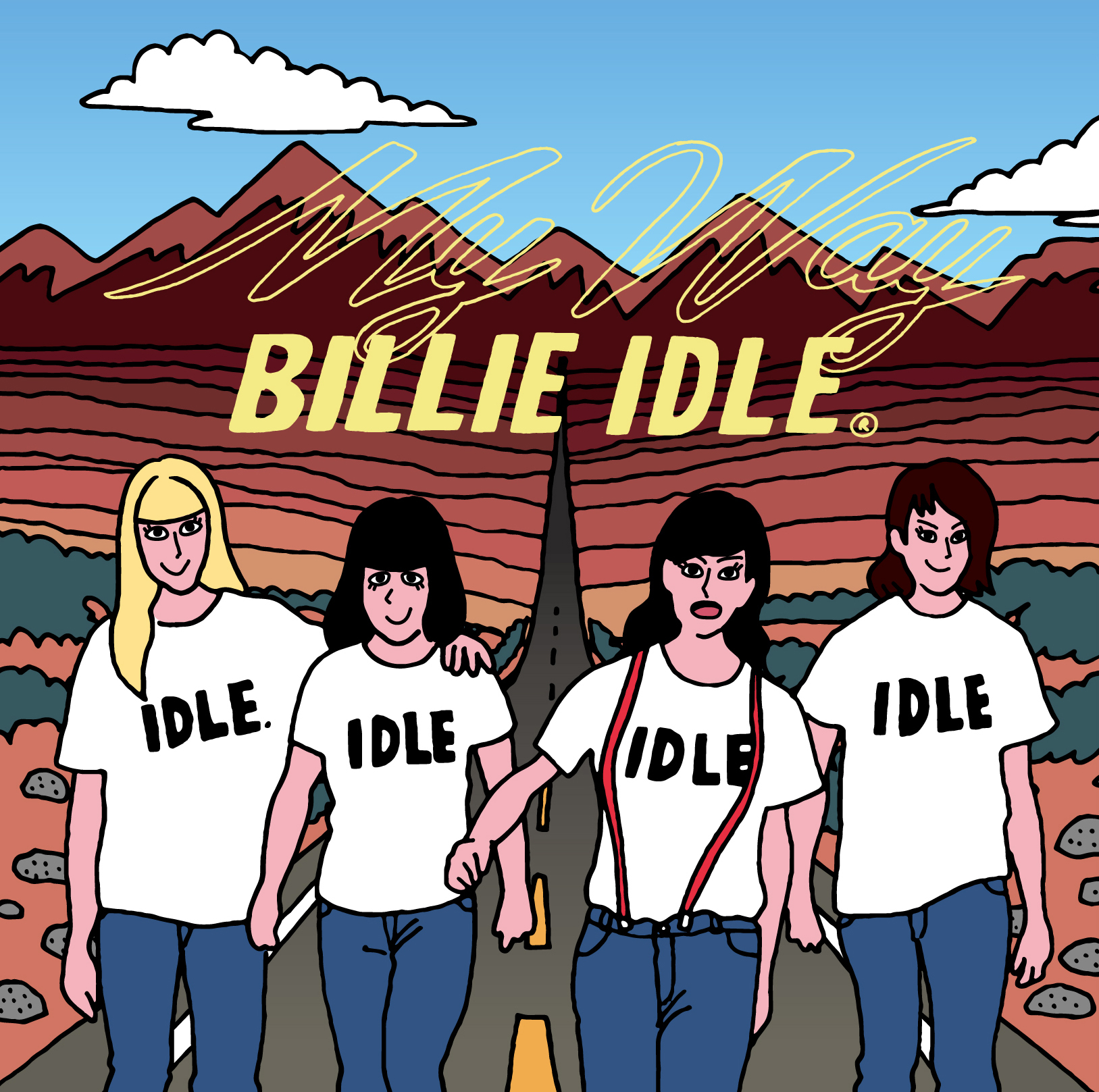 The "not cute, not idol" idol quartet BILLIE IDLE served their fans their first physical single this August. My Way's cheerful pop tune combined with hopeful lyrics penned by member Akira make for a good summer anthem. The 80s/early 90s retro vibe the group is known for isn't as strong with My Way as it is with some of their earlier work but the sprinkles of the rebel spirit present make the song recognizably theirs, nevertheless.
MUCC
Koroshi no Shirabe II This Is NOT Greatest Hits
Visual kei band MUCC is currently pushing through their 20th anniversary festivities. The compilation album Koroshi no Shirabe II This Is Not Greatest Hits (titled playfully after a 1992 BUCK-TICK release of the same name) consists of self-covers of some of their biggest and most loved songs. Monokuro no Keshiki, Ame no Orchestra, Fuzz, Utagoe and others have been updated to match more modern pop-rock sound.
The new arrangements aren't wildly radical – Fuzz hasn't morphed into, say, a ballad – but at best they enhance the original compositions in a fresh way (Ryuusei being a good example of a successful brush-up).
La'veil MizeriA
Jubaku Gou
And talking about visual kei – remember when everyone kept saying visual kei was dead? Well, no need to worry anymore! In August, La'veil MizeriA went full throwback Thursday with their song Jubaku Gou. The music video is stuffed with big hair, goth make-up and BDSM-esque leather outfits that would make Mana shiver in envy. Amazingly retro or horribly old-fashioned, everyone can decide that on their own, but the meticulous replication of the old-school VK visuals is a thing worth tipping one's hat for. If nothing else, the music video makes for a great drinking game. VHS aesthetics? Check, have a shot. Leather boots? Check, have a shot. Deep, wailing vocals? Check, have a whole bottle.
Kyle
Yoru no Honki Dance
TAKE MY HAND
I only heard about this band for the first time a few months ago, so when I watched the video for "TAKE MY HAND" I had 0 idea of what to expect. Only reason I decided to watch it really was cause I saw the promo images on Natalie and thought it looked cool, and I'm glad I did. Flashy visuals aside the song itself is just ear candy, super energetic and staying true to the bands name it kinda makes me want to dance. Looking forward to see what they have to offer in the future.
Midori Takada & Masahiko Sato
Lunar Cruise
The elusive "Lunar Cruise" is a collaboration album between ambient musician Midori Takada and the Jazz pianist Masahiko Sato. Originally released in 1990, the album finally got it's first reissue in early September. The album also features contributions by Yellow Magic Orchestra members Haromi Hosono and Kazutoki Umezu. "Lunar Cruise" makes me feel like I'm in a space ship traveling to some distant planet. Very calming, but at times the music evokes an eerie feeling. This obviously isn't gonna be for everyone, but you never know unless you try!
Yakuza Kiwami
Videogame
Thanks to the surprising success and acclaim of Yakuza 0, the series has finally started to acquire a largely growing fanbase in North America and Europe. Kiwami is a remake of the original Yakuza game released in 2005 for the Playstation 2. As usual with most remakes the graphics, framerate, and loading time have all been vastly improved. Additional content has also been added to remedy some of the original confusing plot lines, as well as relate better to the events that happened in the prequel Yakuza 0. Set in a beautiful open-world rendition of Tokyo's Kabukicho district, the addicting fast-paced gameplay and charming characters make this series a must-have for any Playstation 4 owner.
Ronald
Chara
Sympathy
This is honestly Chara's best album in years. A real return to form. Some of her recent albums have been a bit dull to listen to, with the songs blending into one another. This album has a nice variance in sounds. The highlight is clearly the Kenmochi Hidefumi-produced "Herbie." It sees Chara doing a more mature, sleeker, dare I say sexier take on Suiyoubi no Campanella's signature sound. This song is a nice contrast to the relaxed nature of another album highlight, the song "Funk."
Utada Hikaru
Oozora de Dakishimete
While I did like some songs on Utada Hikaru's last album, it generally underwhelmed me. But this song caught my attention! The opening made me think "Ohh Lord, more mom pop…", but by the end I was hooked! This song is a nice bridge between her glorious old style and whatever she was trying to do on "Fantôme." The highlight of the song is the first chorus. Those strings, the way they crescendo, really was like a blast from the past.
PAELLAS
D.R.E.A.M
In the summer, I tend to listen to a lot of city pop, disco, and old R&B, more than usual. The new PAELLAS album fits nicely into that mix because it is a fresh take on a familiar sound. I would easily call "Shooting Star" my song of the summer. It has an aloof coolness to it that I really enjoy, especially on a warm night.
AKLO x JAY'ED
Sorry…come back later
AKLO and JAY'ED have collaborated for years, so it makes sense for them to make a collaborative release. AKLO has been getting more attention as far as rappers go, but JAY'ED's vocals still remain underappreciated. "Different Man" is the standout track on this release. There is a darkness and smoothness to it. It sounds like something that could work in the West.
Ame no Parade
shoes
In the summer, I tend to listen to a lot of city pop, disco, and old R&B, more than usual. The new PAELLAS album fits nicely into that mix because it is a fresh take on a familiar sound. I would easily call "Shooting Star" my song of the summer. It has an aloof coolness to it that I really enjoy, especially on a warm night.
Watch the video here
indigo la End
Crying End Roll
I've always found indigo la End to be the more enjoyable overall of Kawatani Enon's bands. Gesu no Kiwami Otome. are good for a bop, but their albums are quite bad, just look at the mess they released earlier this year, the name of which I can't remember, nor be bothered to look up. But indigo's albums are good as a whole, and their singles are just as good as Gesu's, but in a way that isn't so overtly catchy like Gesu's. The melodies in indigo's songs stick with you more. There's an emotional complexity to their songs that I don't really see in Gesu. But one thing I did notice in this album that borrows from Gesu are more female vocals. A female guest is actually behind the hightlight of this album funnily enough: Qrion's remix of "Kokorone." While it is an old song, Qrion breathed new life into it and took it to another place, a place where it is even more enjoyable.
Watch the video here
1 2