Ex Bis idol Yufu Terashima finally announced her long awaited album details a few days ago, revealing that it would be released on 21st of September on TEICHIKU Entertainment (while still being managed by DEARSTAGE). The album will be released in 2 different formats, regular CD and CD+DVD. For more information and track-list, keep reading!
This marks Yufu Terashima's full length debut, after a strew of singles and mini albums. The album itself features re-recorded versions of most of her singles up to now and features notable guest writers such as Seiko Oomori (Fuhehehehehehehe Daisakusen) and Nemu Yumemi from Dempagumi inc. (Oblaat of Love). The video included on the DVD edition is also co-directed by Nemu Yumemi.
Tracklist:
01 . Watashi ni Naru
02 . Fuhehehehehehehe Daisakusen
03 . Suki ga Hajimaru (re – vocal version)
04 . Camapanula no Yuutsu
05 . Oblaat of Love
06 . Neko ni Naritai!
07 . Iyahaya, Feeling
08 . Yuru Kyara Budoukai
09 . Hatsukoi no Silhouette (strings version)
10 . 101Kaime no First Kiss
11 . Zenzen
12 . Madamada
13 . Suki ga Koboreru
14 . # Yuflight (re – load version)
DVD: Features video clip for Watashi ni Naru
Here is the promo shot released on the 21st of July: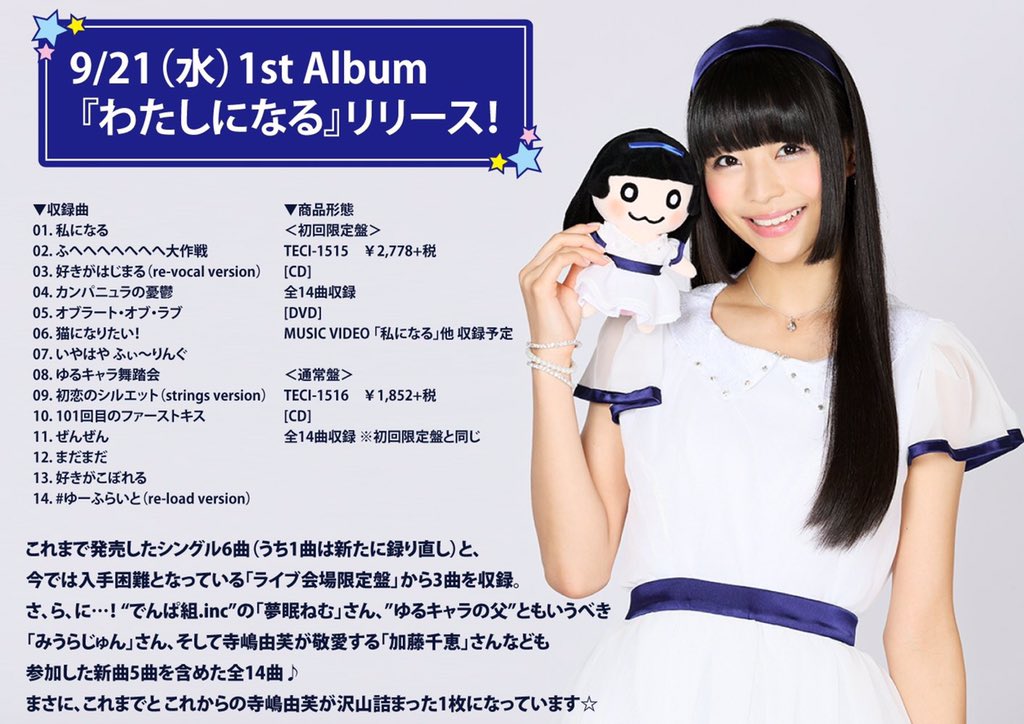 While there are no album covers yet, you can already pre-order both versions of the album at Amazon Japan.
While you wait, why not revisit Yufu's mascot featuring single "Iyahaya Feeling" in the meantime:
(source)