Tons of movies are coming our way! An outline of Japanese films for 2017 were previously posted in Arama. Now we catch up on some more announced movies, updates, casting, teasers and trailers of upcoming movies.
Check them out below! (Trailers on the 2nd page)
Tokyo Ghoul Visuals and Stills
New poster showcasing two sides of Kaneki Ken (Kubota Masataka) is released. The text on the visual reads, "The only entity who knows of the two worlds of humans and ghouls." Stills from the movie featuring the main cast can be seen below.
Fullmetal Alchemist new Visuals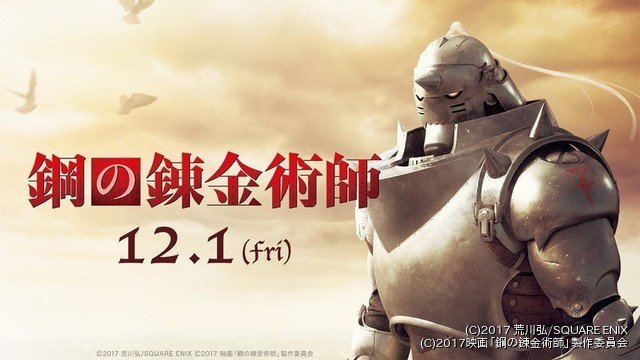 FMA LA released its 2nd visual, featuring a full body visual of Edward and Alphonse that until now has only been partially shown in teasers. You can also see the familiar cross-shaped mark of Flamel's Emblem on Ed's coat and Al's left arm.
A fan event will be held on July 12 with the anime voice actors and live action film actors. Attendees TBA.
The film's latest teaser has surpassed 3 million views (3.7M currently) and has set a record with Warner Bros Japan. The director has acknowledged the huge international reaction following the release of teasers. No of views- #1 Japan, #2 Taiwan, #3 US other countries include China, Brazil, UK etc
'Hirugao' premiere at 19th Udine Far East Film Festival
Lead actors Ueto Aya, Saito Takumi and director Nishitani Hiroshi attended the festival last April 24 at Udine, Italy
After the screening, the film was received by a standing ovation. The cast also traveled to Venice for the PR shooting of the movie. Film opens in Japan on June 10.
Peach Girl Film New Visual
Ahead of its May 20 release and in time for Golden Week, Peach Girl film releases new visual featuring the characters dressed up fashionably instead of wearing their uniforms. Posters will be invading Harajuku station from May 1- 7.
Chihayafuru Sequel Film
Film will take place 2 years after the first 2-part films and will depict Chihaya, Taichi, and Arata in their third year of high school.
Main cast members such as Hirose Suzu, Nomura Shuhei, Mackenyu, Kamishiraishi Mone, Yamoto Yuma, Morinaga Yuuki, Shimizu Hiroya and Matsuoka Mayu will reprise their roles. Yuuki Mio and Sano Hayato will also been joining the cast.
Film will be released 2018
Sakamichi no Apollon Movie
cast: Hey! Say! JUMP's Chinen Yuri, Nakagawa Taishi and Komatsu Nana
Chinen plays the shy lead character Nishimi Kaoru, Nakagawa plays the scary delinquent Kawabuchi Sentaro and Komatsu plays Mukae Ritsuko, Sentaro's childhood friend
Chinen started lessons in jazz piano since September last year and bought an electronic piano for practice.
slated for release 2018
River Edge 
cast: Nikaido Fumi, Yoshizawa Ryo
Nikaido plays Wakagusa Haruna, a high school girl living in a town during the 1990s, and Yoshizawa plays Yamada Ichiro, a bullied gay teen. Haruna gets to know Ichiro after the former helps Ichiro while he was being bullied by Kannonzaki, Haruna's ex-boyfriend. While together, they see a dead body by the riverbank that becomes their shared secret.
opens 2018
Koi to Uso Film
cast: Morikawa Aoi, DISH//'s Kitamura Takumi and Gekidan EXILE's Sato Kanta
Different from the manga, which focuses on a love triangle composed of one boy and two girls, the movie will have original characters, with a love traingle composed of one girl and two boys
Morikawa plays heroine Nisawa Aoi who has to face the dilemma of choosing between Shiba Yuuto (Kitamura), her childhood friend and Takachiho Sosuke (Sato) designated as her marriage partner by the government
opens Autumn 2017
Love x Doc
cast: Yoshida Yo, Nomura Shuhei, Shinohara Atsushi, Yoshida Kotaro and Tamaki Hiroshi.
This is Yoshida's first lead role in a film and also the directorial debut for screenwriter Osamu Suzuki.
Yoshida plays pastry chef Goda Asuka. A younger pastry chef played by Nomura Shuhei confesses his feelings for her. This brings back bad memories when she was involved with two men about 5 years earlier. She decides to go to "Clinic Love Doc" for help.
1 2