Nippon TV's year end music show Best Artist 2015 is currently airing in Japan. KAT-TUN is one of the acts performing at tonight's show. Before their performance of "Dead or Alive", member Taguchi Junnosuke make a shocking announcement: he will be leaving his group as well as Johnny & Associates this coming spring, effectively ending his career as an entertainer. This is especially surprising given that March 22 marks the 10th anniversary of KAT-TUN's debut.
With Junnosuke's departure, KAT-TUN will have lost half of its members, following the departures of Jin Akanishi in 2010 and Tanaka Koki in 2013. Johnny & Associates made an announcement on their site about the news. KAT-TUN will not be disbanding, but they are currently in talks about their future as a group.
Check out of the video of Junnosuke's announcement and their performance of "Dead or Alive" after the jump.
Message from Junnosuke: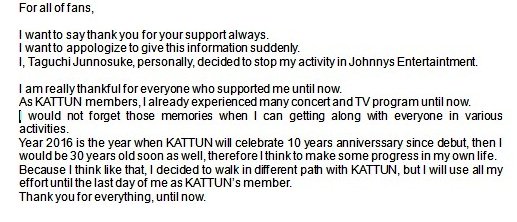 And from his groupmates: