Last March 22, KAT-TUN celebrated their 10th year anniversary. The twitter sphere was abuzz when former members of the group tweeted in relation to the event.
At past 1 am, Akanishi Jin tweeted "Omedetou" (Congratulations), which delighted a lot of fans who replied with "Thank you, Jin-kun!" "Congratulations also Jin-kun," "crying". At around 5 am, Tanaka Koki also tweeted "Happy B'day", but later deleted the tweet.
When his INKT bandmate SASSY replied to him "Congrats", Tanaka tweeted he doesn't want to cause any inconvenience, so while there aren't many people looking at that time of the morning,  he'll be deleting it.
This spring, member Taguchi Junnosuke will be withdrawing from the group and starting May 1, the group will enter a "charging period". In this kind of situation, the greetings from old members, along with the release of the best album "KAT-TUN 10TH ANNIVERSARY BEST" 10Ks!" on the same day of debut, has put fans in a celebratory mood.
Posters and billboards of KAT-TUN with 3 members Kamenashi Kazuya, Ueda Tatsuya and Nakamaru Yuichi (as well as solo posters) were already released in celebration of the 10th year anniversary and the release of the Best album.
おめでとう~

— Jin Akanishi 赤西 仁 (@Jin_Akanishi) March 21, 2016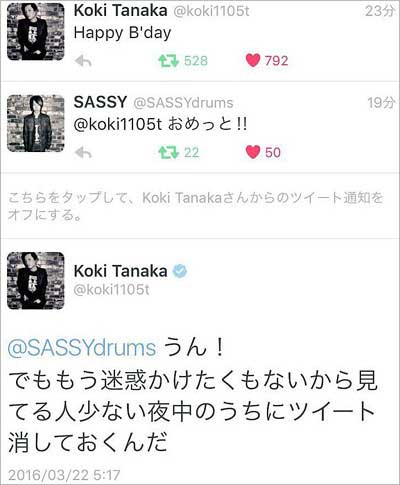 #KAT-TUN#10Ks pic.twitter.com/qOYEvg7cgQ — ٩(๑❛ᴗ❛๑)۶ 10Ks全ステ参戦! (@t8efg0m2tuZjIse) March 21, 2016
そしてそして伝わるかな?渋谷駅の井の頭線ホームをジャックするKAT-TUN!!!ソロと3人ver.どちらもあったよー! pic.twitter.com/ajH1WwT02l

— たんたん (@poeeeeenxxx) March 20, 2016
渋谷で副都心線目指したらめっちゃ10ks仕様ーーー!!!!! 仕事がんばるーーー!!!!! pic.twitter.com/LSTBkjpC1c — ら!いか (@ra_298) March 21, 2016