Earlier this week, Miliyah Kato announced that she is pregnant with her second child. But who is her husband? Apparently, he's a handsome and popular chef!
His name is Kuroki Jun and he is the chef / owner of the Tokyo restaurant Kurogi. The restuarant was awarded an Innovation Award from the restaurant guide "Gault & Millau" this year. Jun was also awarded one Michelin Star in 2011 and 2012. He's even appeared on "Iron Chef" as the Japanese chef in 2012 and 2013.
According to a regular diner at Kurogi, Jun is an ikemen whose coolness is enhanced by his culinary skills. He's become quite famous, but doesn't let it go to his head, engaging in friendly conversation with diners. It's a given that he's popular with female diners. It's nearly impossible to get a reservation at the restaurant. Jun has also expanded his business by opening a cafe on the University of Tokyo campus, collaborating with an established Miyazaki Prefecture pickle shop, and developing desserts and ice cream.
Miliyah and Jun's relationship first made news in April 2017. Photos were published of the couple arriving in a foreign luxury car (with Jun driving) at a luxury inn in Shuzenji Onsen in Shizuoka Prefecture.
However, Jun was already married with children at the time he started dating Miliyah, according to a music industry source. When the photos of the new couple were published, Jun had already been divorced before, and had children with his ex-wife. However, at the time he was living with his common law wife and the two children they had together. Due to this situation, the photos were published with the title "Kindan no Koiji (Forbidden Love Road)." Miliyah didn't know about Jun's situation until she read the article about them being together, and was shocked upon finding out.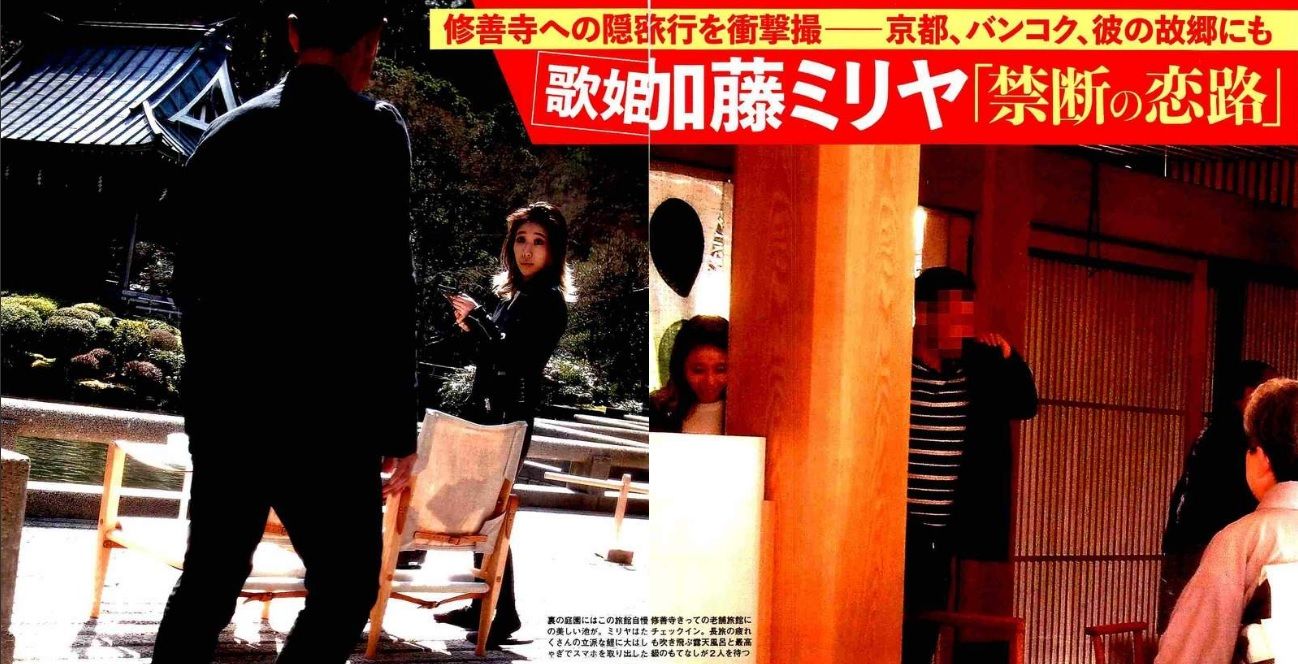 Upon finding out about Jun's situation, Miliyah spoke to her fans, saying that she didn't know about his situation beforehand, and that after finding out, she is no longer dealing with him.
Miliyah parted ways with Jun, but in the end, she couldn't stop her journey down the "kindan no koiji."
According to an acquaintance of Miliyah's, Miliyah said that even though she felt betrayed and hurt by Jun, she couldn't leave him. Miliyah then spoke with Jun's common law wife multiple times, leading her to break up with Jun, so that Miliyah could be with him. When Miliyah found out she was pregnant in 2019, it wad decided that her and Jun would marry.
When a woman is having an affair with a man who has a wife and kids, things tend to get messy. Miliyah's songs such as "SAYONARA Baby", "Ai no Kuni", and "WHY" are from the point of view of the mistress.
Miliyah has said in interviews that her lyrics stem from the experiences of her friends, and not herself. However, her acquaintance thinks otherwise.
Miliyah and Jun's common law wife didn't fight. In fact, they became friends, according to one of Jun's acquaintance. Jun promised his common law wife that he would pay child support. She gave in in the end.
Multiple close acquaintances of Jun's have given him the nickname "polygamy chef", out of envy.
Jun's acquaintance wonders how many children he will have with Miliyah. The acquaintance also notes that Kurogi started serving breakfast in May, in addition to its previous lunch and dinner services. Apparently this new meal service was added to pay for the child support for the first wife and the common law wife, with Jun saying to people around him that he has a lot of children so he needs to make a lot of money.
When affairs are uncovered, normally there is bashing of the people involved, but that is not the case with Jun. According to his acquaintance, this is because Jun has taken responsibility, respect the feelings of women, and gives them choices.
We shall see how Jun's relationship with Miliyah fares.
---
Watch an interview with Miliyah's husband by these two flop Koreaboo scammers below: