Today, Shukan Bunshun revealed that Kawatani Enon (27) of the bands Gesu no Kiwami Otome. and indigo la End is supposedly dating Becky (31). The problem though is that he is currently married. Enon has secretly been married since last summer. He met Becky in October, and the rumored couple said that that they began a friendship soon afterwards. Becky was a fan of Enon's, and she, like everyone else, had no idea that he was married. Enon told Becky that he was married in November. Shukan Bunshun discovered LINE messages between Enon and Becky speaking of Enon's plans to divorce his wife and then marry Becky.
After Enon's Kohaku Uta Gassen debut with his band Gesu no Kiwami Otome., he and his rumored girlfriend traveled to Nagasaki to spend the New Year with his parents. It is during this Nagasaki trip that the rumored couple was photographed together. When asked if they were a couple, both parties denied the allegations. Becky told Shukan Bunshun to ask her management if she was dating Enon. When Shukan Bunshun asked Enon about his wife, he said that she was just a friend.
Pictures of Becky and Enon in Nagasaki:
Since Shukan Bunshun first reported on this, Enon has confessed to being married, but said that he and Becky are only friends. Becky has maintained the "only friends" position, going so far as to have a tearful press conference to maintain her innocence:
https://www.youtube.com/watch?v=d41Jn9_fDU4
Both apologize for any misunderstanding that came about due to the nature of their friendship.
EDIT:
Photos of the rumored couple in their hotel room / their LINE messages: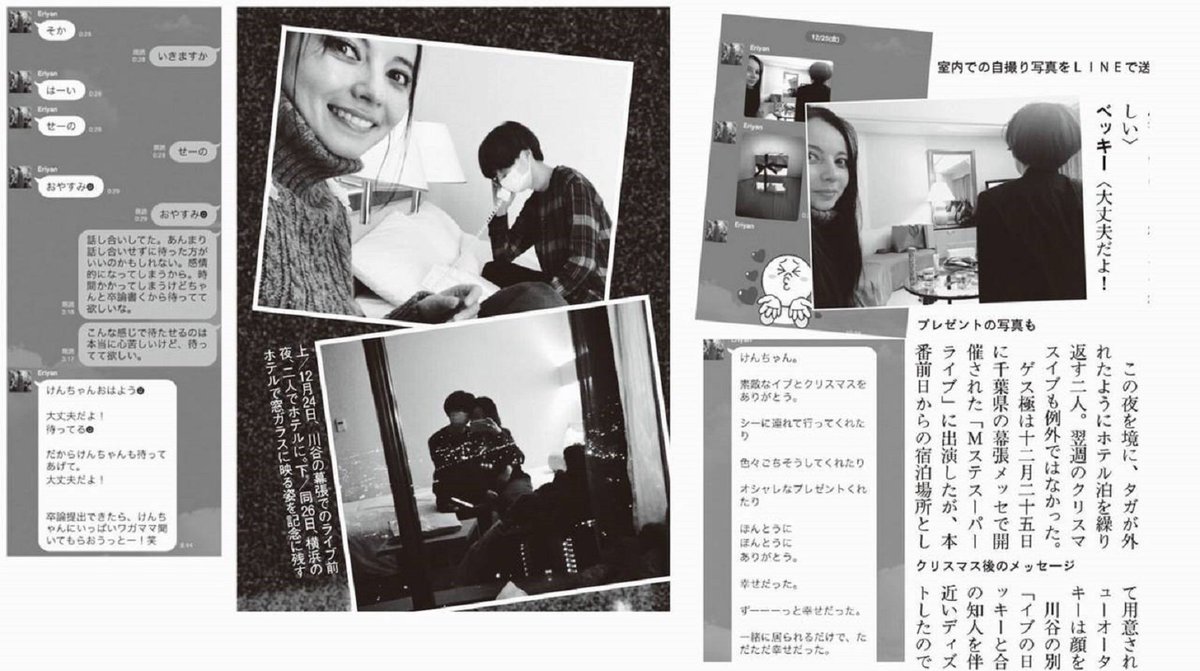 Thanks to Reileen and Yoreruu!
Translation of the LINE conversation, starting with the left page:
Becky: Ken-chan, thank you for the lovely Christmas Eve and Christmas. You took me to the sea. Treated me well. Gave me stylish gifts. Truly, truly, thank you. I was happy. Forever happy. Being together with you made me absolutely happy.
Right page:
Becky: Really?
Enon: Did you go?
Becky: Yes
Becky: Let's do it
Enon: Let's do it
Becky: Goodnight
Enon: Goodnight
Enon: There are discussions. It would be better if you waited while these discussions are taking place. It can become emotional. I hope that you wait while I am writing my thesis. Though it's painful to have you wait, I want you to wait.
Becky: Ken-chan, good morning. Ok. I'll wait. I'm wait for you Ken-chan. I'm fine. So that you can turn in your thesis, you can be selfish. LOL!