Shuukan Bunshu has reported that Beat Takeshi (67) has told his acquaintances about his thoughts of wanting to divorce his wife and give her his fortune to be with his mistress, "A-ko".
Out of curiosity of who this woman is, we searched for a photograph.
According to Shuukan Bunshu, Takeshi has not returned to his Tokyo apartment and is renting an designer apartment for his mistress, engaging in a lifestyle of part time co-habitation. While it is not surprising for someone as big as Beat Takeshi to have a mistress or two, since he has continued a husband and wife relationship up until this point, you would want for him to put his family first.

Again, it seems that Takeshi is saying  "I want to pass my fortune along to my wife and be with you" to his mistress A-ko with complete sincerity. It has also been revealed that his colleagues have said that "This is the first time he has fallen so much for a woman."
He denies both the affair and the divorce, but there is the feeling that even if he hasn't decided on the divorce, but there is no mistake that he is having an affair.
This is a photo of the woman that Beat Takeshi has been so engrossed with.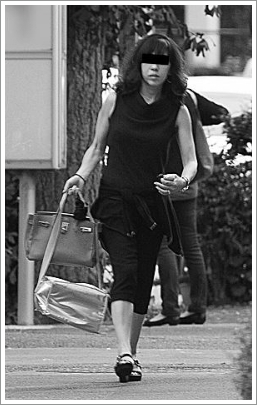 Pretty average tbh
According to Shuukan Bunshuu, she is the beautiful woman holding an Hermes Birkin with black hair. It also seems that the Birkin is a present from Takeshi.
As for who this woman is, she is an adviser at a high class hotel in Kansai, but her true identity is not yet known. It appears that he father is an important figure who went from being a secretary in the management department of a major advertising firm to being a member of the Diet in Kumamato.
According to the management at the hotel that A-ko works at, she is an appreciated figure with ties to the entertainment industry. However, according to her former partner, "Truthfully, she is not someone that you can work well with."
On the July 9 episode of TBS' "Tuesday Downtown Special," Takeshi barged in and threw some shade at Masatoshi Hamada's affair, but there has yet to be a retaliation.
Translation by me