Hello, AramaJapan readers! I am here today with the second installment of our featured artist series. The artist I am presenting to you today is Suiyoubi no Campanella.
Who is Suiyoubi no Campanella?
Suiyoubi no Campanella is a group composed of Koumai, Kenmochi Hidefumi, and Dir.F. Koumai is in charge of performing the songs while Hidefumi is in charge of the creation of the music. Dir.F's role is kinda mysterious. He's kinda like the handyman of the group, as in he does whatever is needed of him, including directing some of their music videos. The only person you will see in this group is Koumai. Hidefumi and Dir.F are behind-the-scenes only so far. The group's name is a Japanese/Italian hybrid that translates into "Wednesday's Little Bell." The "Wednesday" part comes into play due to the fact that when the group was forming, they would routinely meet on Wednesdays. They formed in 2012, releasing a demo and putting songs on YouTube. So far, they've released 3 mini albums, a cover mini album, 4 demos, and 5 special releases through the music site OTOTOY.

What is so special about them?
Their sound is kinda hard to describe. I feel this way about a lot of music now. So many acts nowadays are taking a little bit of this and a little bit of that and making their own thing. This is one of those kinds of acts. I guess the best way to describe their sound is indie or alternative, as in it's not super mainstream. I personally like those terms as umbrella terms because they really can mean anything. Suiyoubi no Campanella's music has elements of pop, hip hop, electronic, lounge, even UK garage (I swear Da Vinci samples Disclosure's Control). Their music also contains a number of references to history and pop culture. I feel that Suiyoubi no Campanella is a breath of fresh air into the Japanese music scene. I hope to see them grow as part of this growing scene of more underground acts that are catching on these past few years.
Where do I start?
They don't really have that much material. I have everything they've released so far (except for their demos) and it totals 33 songs. In light of this, they're a quick listen. What I'm going to do now is just highlight their 3 mini albums and their cover mini album by posting my favorite song from each release.
1st mini album: Kuroru to Gyaku Agari (released 5/15/13)
Song: Oshichi
2nd mini album: Rashomon (released 10/9/13)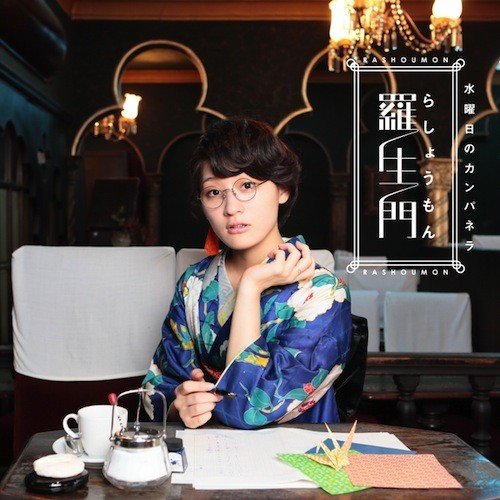 Song: Marie Antoinette
3rd mini album: Cinema Jack (released 3/19/14)
Song: Mothra
Cover mini album: Amin Tofu (released 7/2/14)
Song: Kung Fu Lady (Hirake! Ponkikki theme song by Takada Tomoko Cosmos)
So where can I find them?
The easiest way to buy their material is through OTOTOY digitally. They have everything but the demos. They even have special digital releases that the group only releases to them. And they take international credit cards. iTunes Japan has some of their stuff but not everything. If you want a physical copy, that can be a bit difficult. Tower Records sells some of their stuff as does 1 location of Village Vanguard in Tokyo. You can also find their online presence via the links below:
Thanks for taking the time to read about one of my favorite up and coming Japanese acts!