Hello AramaJapan readers! We are back with our monthly wrap up feature. A few of the staff members have come together to share their faves for the month of October. Find out what the staff was loving this past month! Also feel free to post what you loved this past October in the comments!
Ronald
Suiyoubi no Campanella – Watashi wo Onigashima ni Tsuretette
I was very much anticipating this release in September when the demo containing 2 of the songs was released. The songs, "Sen no Rikyu" and "Momotaro", were amazing. I wasn't expecting this to be released until November but it got an early digital release in October on OTOTOY. This new mini album really lived up to my expectations and maybe even exceeded them. Of the new songs on this release, "Jeanne d'Arc" stands out the most. I thought the chorus on "Momotaro" was big, well this song has one that is just as big. There's an interlude on here called "Tchaikovsky" and is in part composed of a chopped up version of their earlier song "Mothra." To promote this release, the group released a music video for another good on this mini album, "Inca":
Chiaki Kuriyama – Dilemma
Chiaki Kuriyama is starring in a new cold medicine commercial and in it her new song "Dilemma" is playing. The song has a hard, energetic feel to it which I really enjoy. I was actually surprised at how good this song is. I think it may be my most played song this month.
Kato Miliyah – MUSE
Miliyah is currently celebrating her 10th year in the music industry and as part of it she's released a 2 disc album, with the first disc being collaborations and the second being remixes. The highlight of this album is by far her duet with JASMINE, "DRIVE". Miliyah and JASMINE are similar in that they were both dubbed "the next Utada Hikaru" when they debuted. I like their voices together on this. At times when Miliyah has duets, her voice can overpower the other artist, like in "Fighter" with Mika Nakashima from earlier this year (which is also on this album). That isn't the case here. Miliyah has met her match. Another good song is this is "Blue Flame", her collaboration with SUGAR SOUL. It has a dark, soulful 90s vibe to it.
Sakanaction – Sayonara wa Emotion / Hasu no Hana
It seems since they released their 6th album last March, Sakanaction has been focusing on the more mellow side of their music. They've released 2 double A-side singles since then, both this year. The 4 songs don't have the big, upbeat singalong choruses that made them popular. They're smaller, more intimate affairs. We're seeing a different side of them, something that they said when they named their last album after themselves. They named that album after themselves because they felt as if that album was them in their truest form. Some complained about the more mellow aspects of the album but I enjoyed them, just how I've enjoyed their post-"Sakanaction" singles. "Sayonara wa Emotion" is much like I described above but at the tail end, it just explodes and gives people some of the Sakanaction they're more used to. I'm really curious as to the process of this song's creation because a clip of it was originally played in a commercial last year. That version is the big, upbeat singalong chorus Sakanaction. It has the Afrobeat that Ichiro said he wanted to explore when asked what was next for the band while doing promo for "Sakanaction" last year. Why the change with this song?
That brings us to "Hasu no Hana." I've already talked about the basic feel of this song. This definitely has a more electronic feel than "Sayonara wa Emotion." There are actually 2 versions of this song: a -movie version- that was only released digitally and a -single version- that was on the actual single "Sayonara wa Emotion / Hasu no Hana." The difference between the 2 is that the -single version- has a more psychedelic feel.
Various Artists – TWILIGHT TIME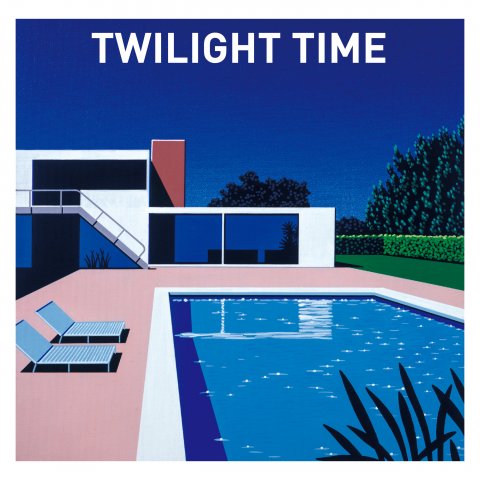 "TWILIGHT TIME" is a cover album featuring various artists covering city pop hits from the 70s and 80s. For those who don't know, city pop is described as a blend of soul, jazz, rock and other genres into a form of music that represented Japan's big city life at its economic peak in the 80s. The song that really stands out here is Hitomitoi's cover of Carlos Toshiki & Omega Tribe's 1988 song "Aquamarine no Mama de Ite." I have a thing for funky 80s songs and this just does it for me.
___________________________________
Ryusenkai
Singles:
Acid Black Cherry – INCUBUS

If I had to say, most people probably wouldn't guess that I'm an Acid Black Cherry fan, considering both his image and musical style come across as kind of different compared to most acts I like. Even so, I really do enjoy the music that he releases, and his latest single is no exception. "INCUBUS" is a fairly dark track that opens with some weighty, but oddly lyrical guitar riffs, followed by a verse of full English lyrics (while Yasu's English HAS gotten much better, I think that he still has a bit of a ways to go). Once we reach the first chorus though, the song has definitely hit its stride, cementing its identity as a confrontational rock track with plenty of attitude and emotion to sell what Yasu is trying to deliver. Particularly notable are just how clear his vocals are, even with a song that has as much distortion present as this one. "INCUBUS" is actually the lead-up single to the release of his 4th studio set next year, which is a concept album titled "L"; while I think the song is good on its own, what I'm really interested to see is how it fits into the narrative that he's created for that release.
Anyway, the B-side on the release is one of ABC's infamous "Recreation Tracks", where he updates and covers the songs of older artists and eventually compiles them into a cover album. The song that he's selected this time is rock band BOØWY's "CLOUDY HEART", which I feel that he's lightened up ever so slightly compared to the original (though it might just be that his voice does come through a lot more clearly). There's just something a bit… lounge-ish about Acid Black Cherry's version of this song, despite it still clearly being a light rock track, and I can't quite put my finger on what. Nonetheless, I feel that "CLOUDY HEART" provides a very nice contrast to the title song of this release, and on a single that only contains two songs, variety is key.
Sakanaction – Sayonara wa Emotion / Hasu no Hana (see Ronald's post for videos)
This release being here might be somewhat more expected, considering that I've been nothing but open about the fact that I love Sakanaction; in my opinion this is definitely the strongest single released in October. The release starts off with "Sayonara wa Emotion", which despite the title has more than a little bit of emotion infused into the singing of the song's lyrics. Ichiro does a wonderful job here, but I honestly have to kudos to the whole band for creating a track that balances the rock and electronic elements of Sakanaction's sound so very well. I'd been expecting something very different based on the CM version of this song, but I'm kind of glad that this is what we got instead, since I think that the subdued nature of most of the track provides a great contrast for when it finally does explode (and we got one of the choral moments that I've really been missing from them lately towards the end).
"Sayonara wa Emotion" is followed by the single's other A-side, "Hasu no Hana", which opts for a considerably more electronic approach that ends up veering towards a full-on psychedelic soundscape. There are actually two versions of this song: one for the single, and a far more subdued affair that was used for the movie "Kinkyori Renai". Personally, I prefer the single version, as it just feels as though there's so much more life in the melody (plus I adore their use of unconventional sounds, like including the pouring of a glass of water); combined with its rather out there music video, "Hasu no Hana" honestly ranks as one of the trippiest, but ultimately enjoyable experiences that I've had in a while.
The first of the two B-sides is a remix of their song "AME(B)" (from the album "Shinshiro"); given that it's called the "SAKANATRIBE x ATM" remix, I'm going to assume that this is the version of the song that they've used while on tour in recent years. Overall, this is a fairly atmospheric instrumental piece that brings a lot of synthesized sounds together, later joined by some of Sakanaction's signature choral chanting. I think that this remix might go on just a bit too long, but I'd still call it a pretty enjoyable track to listen to when I'm in the right mood. The other B-side is a remix of their well-known track "Music" done by famous producer Cornelius. I'll be honest, this is unlike any other remix I've ever heard, since rather than giving a different electronic take, we're given what's very nearly an acoustic version of the song. That said, I actually do kind of adore this version of "Music", since it's almost ethereal at times and its wonderfully light nature can be oddly calming at the end of a long day (though I do wish that Ichiro's voice was a bit clearer once the horn synth comes in). Kind of a nice, pleasant way to put a bookend on this single.
Honorable Mention: Kuusou Iinkai – Jyunai, Yue Ni Shoaku Setsu
Josei (from SOIL & "PIMP" SESSIONS) – I See You While Playing The Piano
I'm going to be somewhat unconventional here and actually recommend an instrumental album, since this was by and far both one of the most enjoyable and most listened to releases for me in October. "I See You While Playing The Piano" is the debut solo album of Josei, the pianist and keyboardist from the club-jazz sextet SOIL AND "PIMP" SESSIONS, and consists of eleven wonderfully composed and arranged jazz piano pieces. If you have a love of either traditional jazz or lounge jazz, that I cannot recommend this release to you enough, since it evokes perfectly the feeling of sitting in a sparsely populated jazz club late at night, watching the toil of a true lover of the genre. From the warm, familiar chords of opening track "Friends Are Comin'", to his subdued interpretation of Miles Davis' "Blue in Green", to the tinges of heartfelt nostalgia that color "When I Was A Boy", this album is just a joy. There's so much that I could say about each of the tracks on this release that I'd frankly be here for hours (okay, maybe not hours), but since I value your time, consider the above excerpts some particular recommendations. If anyone would like to discuss this particular album more in the comments though, I'd be quite willing.
Ame no Parade – sense
This was a release that I just happened to come across when browsing the Rockin'On Japan website, which later led me to write about one of the music videos which was released ahead of the mini-album itself. "Petrichor" was an intriguing lead track, as it opted for a very controlled low-energy approach that nonetheless managed to impart a fair amount of weight to the song itself, aided by the haunting melody, sharp drumming, and well-placed choral parts. Were I to describe "sense" in a single sentence, I would call it a laid back, yet surprisingly dynamic and groovy record; the sheer variety of textures found in their sound, and on such a short release is a particularly impressive feat, especially for what was only Ame no Parade's 2nd release as a band. My personal favorites off of the mini-album are "Yuragi Meguru Kimi no Naka no Sore", with its meticulous build-up that always manages to explode on every chorus, the soulful and cynical "suppression", and the ethereal and beautiful, yet also incredibly emotional closer "Catharsis". The band's vocalist, Kohei, deserves a lot of respect for what he manages to do on this release, in particular his seamless switching between singing and spoken word segments on several songs. On the whole, just a solid mini-album that makes me very much anticipate the full-length album that I'm sure Ame no Parade will eventually release.
Gesu no Kiwami Otome. – Miryoku ga Sugoi yo
Luckily for all of you, I've already given my extensive thoughts on this album elsewhere on this site, so you don't have to read through yet another paragraph from me here. I'll just be brief: very good jazz-rock album with a few electronic touches here and there and a fairly unique-sounding vocalist. Somewhat safe for them, but still quite an enjoyable listen overall.
Straightener – Behind The Scene
Last but certainly not least, we have what I consider to be my favorite album of October: Straightener's "Behind The Scene". While this was an album I was looking forward to, I really wasn't expecting it to grab me in the way that it has; this release is of a level of quality that it's managed to even crack its way into my Top 10 for the year. If I had to say what it was about this album that makes it stand definitively above Gesu's "Miryoku ga Sugoi yo", it's the rather impressive sonic variety that it possesses in addition to the excellent execution and overall high quality of the song writing. Straightener have been in the music industry for a long time now – 14 years, 10 of which they've spent signed to a major label. That experience shows in "Behind The Scene", where they've managed to craft a record that houses the electronically charged "The World Record", the stripped-down romp of "Saiun", the raw and elemental "Super Magical Illusion", and the heavy and almost oppressive "78-0″ under the same banner. Yet not once does this variety disturb the flow of the album, each song working together to create a diverse yet cohesive whole. My personal favorites are the smooth yet rocking "Fuyu no Taiyou", the aforementioned "Saiun", and the light-hearted and fun "Wonderfornia", which I've enjoyed so very much since it first appeared as the B-side to their "Super Magical Illusion" single back in June. In fact, the only "significant" complaint I can even possibly level at this album is that vocalist Horie Atsushi's English is a bit difficult to understand the first time through, though on subsequent listens this really ceases to be an issue. Yeah… I can't sing Straightener's praises enough on this one. Just a very, very good entry into their already impressive back catalog.
Honorable Mentions: Galileo Galilei – See More Glass, THE MIRRAZ – OPPORTUNITY, THE NOVEMBERS – Rhapsody in beauty