Kudo Kankuro's completely original work "TOO YOUNG TO DIE! Wakakushite Shinu" stars TOKIO's Nagase Tomoya and Kamiki Ryunosuke. Kudo Kankuro has written the script and will be directing for the movie.
"TOO YOUNG TO DIE! Wakakushite Shinu" is entertainment movie that begins when Daisuke (Kamiki), a high school student who lost his life in an accident met Killer K (Nagase), the red ogre (demon) in hell. Daisuke receives a "demon special training" from Killer K, the original guitarist and vocalist of the rock band Jigoku-zu (Hellz), and aims for resurrection so he can claim his unrequited love.
Nagase Tomoya stars as Killer K, who is also the adviser of Music Club from Hellz Agricultural High School. This is his first movie in seven years and he challenges a special effects make up as a red demon. Nagase has previously worked with Kudo Kankuro in his directorial movie debut "Yaji and Kita: The Midnight Pilgrims" in 2005, and also in TV dramas "Ikebukuro West Gate Park", "Tiger & Dragon" and and "Unubore Deka".
Kamiki Ryunosuke plays ordinary high school student, Daisuke. He has starred in Kudo's TV drama "11 nin mo iru!" in 2011.
Killer K's rock band- Jigoku-zu, will play original music for the film. In addition, Kamiki underwent intensive guitar and singing lessons to perform as a band member.
"TOO YOUNG TO DIE! Wakakushite Shinu" starts filming in mid- May. It's scheduled to be released nationwide in February 2016.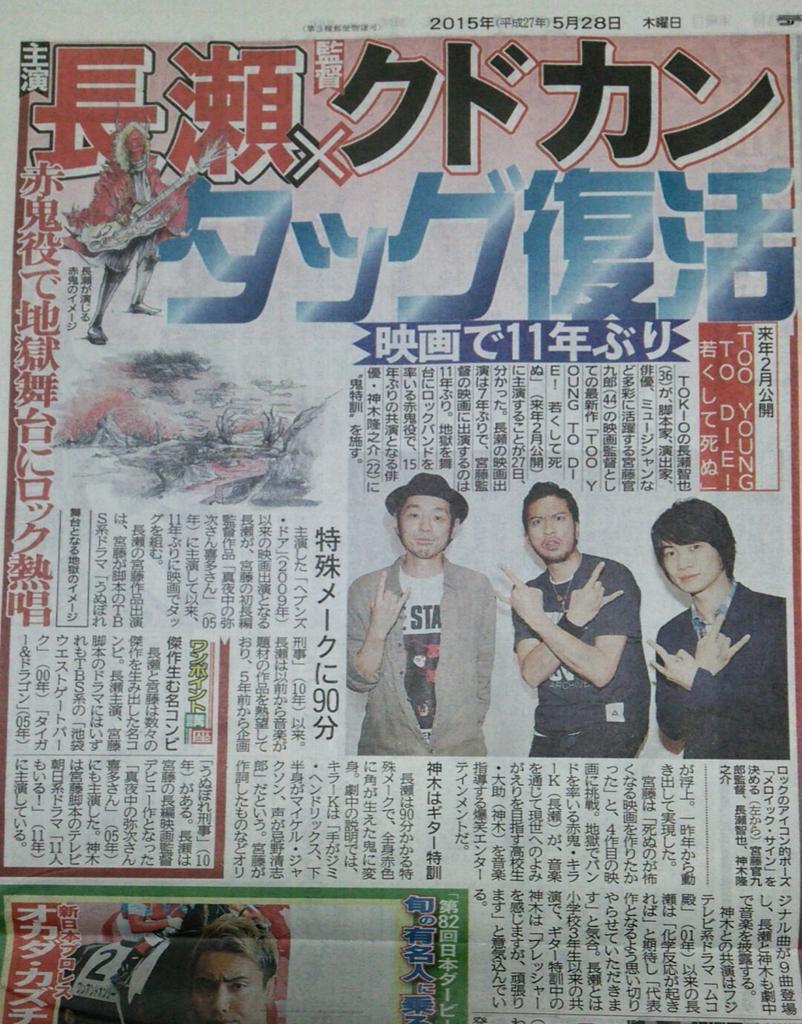 (via Natalie, pic credit てくてく ‏@tekuteku55555)