On May 25, JO1 will release their second album, "KIZUNA." The catchphrase for this album is "Let's enjoy our bond together." This catchphrase condenses the album's theme of recognizing the bond one has with friends after overcoming hardship together.
"KIZUNA" will feature seven new songs, along with songs that were previously released on the group's last three singles. The album will include "Dreamer", the theme song for "Short Program", JO1's Amazon Prime Video drama, and "Move The Soul", the opening theme for the TOKYO MX anime series "Gunjo no Fanfāre."
JO1's new album will be released in five editions: CD+DVD limited edition A, CD+Photobook limited edition B, CD+Solo Poster regular edition, CD only anime edition, and CD only fanclub edition.
Ahead of the album's release, JO1 has released the music video for the album's promo single, "With Us." The song itself ties into the album's catchphrase and theme. Check it out below!
Limited Edition A
CD
With Us
Touch!
ZERO
Algorithm
流星雨 (Ryusei Ame)
REAL
Design
僕らの季節 (Bokura no Kisetsu)
STAY
君のまま (Kimi no Mama)
Born To Be Wild
Never Ending Story
DVD
特典映像 (JO1 WHAT IS YOUR KIZUNA) (Special Film (JO1 WHAT IS YOUR KIZUNA))
Limited Edition B
With Us
流星雨 (Ryusei Ame)
Walk it Like I Talk It
ZERO
Dreamer
僕らの季節 (Bokura no Kisetsu)
君のまま (Kimi no Mama)
REAL
Never Ending Story
Born To Be Wild
STAY
Design
Regular Edition
With Us
ZERO
Touch!
Walk it Like I Talk It
Love & Hate
流星雨 (Ryusei Ame)
Algorithm
Move The Soul
REAL
君のまま (Kimi no Mama)
僕らの季節 (Bokura no Kisetsu)
STAY
Born To Be Wild
Never Ending Story
Design
Anime Edition
With Us
Love & Hate
Touch!
Move The Soul
Prologue
Design
Never Ending Story
Born To Be Wild
STAY
僕らの季節 (Bokura no Kisetsu)
君のまま (Kimi no Mama)
REAL
Fanclub Edition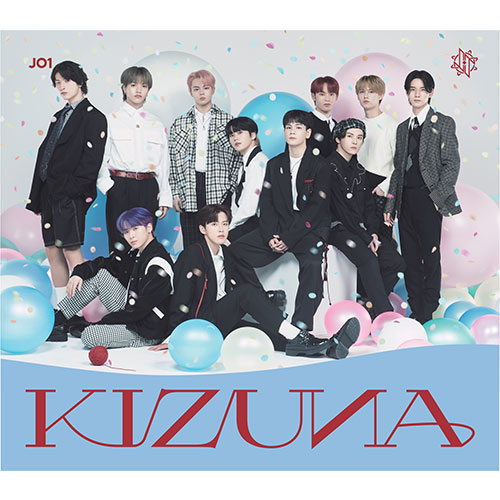 With Us
ZERO
Touch!
Walk it Like I Talk It
Love & Hate
流星雨 (Ryusei Ame)
Algorithm
Move The Soul
REAL
君のまま (Kimi no Mama)
僕らの季節 (Bokura no Kisetsu)
STAY
Born To Be Wild
Never Ending Story
Design