Kanjani8 declares 201∞ as "Kanjani∞ Year", as they announce the release of their newest best album "GR8EST" on May 30, 2018. This comes after 5 and a half years since the release of their first best album "8EST" on their 8th anniversary.
The best album will include 21 single songs starting from "Aoppana" (released September 2012) until "Oto Seyo" (released November 2017. In addition, the album boast as bonus tracks two even GREATer new versions of the song "Musekinin Hero" for which the group collaborated with Tokyo Ska Paradise Orchestra who also aranged the song and "Osaka Romanesque", in which world famous violinist Hakase Taro performs in combination with a strings arrangement.
The music video collection will include all of the released music videos for singles, coupling tracks and album lead tracks starting from "Aoppana". It will also include the band collaboration with Tokyo Ska Paradise Orchestra for "Musekinin Hero". "Osaka Romanesque" will feature 7 solo shots of members in different situations and places in Osaka.
The group will also hold a 5-major Dome Tour titled "Kanjani's Eightertainment GR8EST TOUR" this summer. This will be their 7th Dome Tour for 6 consecutive years. More on the album info and tour schedule below.
GR8EST Album Tracklist
Limited Deluxe Edition (2CD+2DVD)
– LP Size / Special Package / Photobook (LP size)
Disc1 / CD Tracklist (12 songs)
01 – Aoppana
02 – Hesomagari
03 – Kokonishikanai Keshiki
04 – Namida no Kotae
05 – Kokoro Sora Moyo
06 – Hibiki
07 – King of Otoko!
08 – Omoidama
09 – ER2(Eight Ranger)
10 – Itta Janai ka
11 – CloveR
-bonus track-
12 – Musekinin Hero jam with Tokyo Ska Paradise Orchestra
Disc2 / CD Tracklist(11 songs)
01 – Gamushara Koushinkyoku
02 – Tsuyoku Tsuyoku Tsuyoku
03 – Maemuki Scream!
04 – Samurai Uta(Samurai Song)
05 – Tsumi to Natsu
06 – Panorama
07 – NOROSHI
08 – Niguraki BEAT
09 – Kiseki no Hito
10 – Oto Seyo
-bonus track-
11 – Osaka Romanesque feat. Hakase Taro
Disc 3 & 4 / DVD
Music Clip collection(31 songs)
Aoppana/ Hesomagari/ Kokonishikanai Keshiki / Namida no Kotae / Kokoro Sora Moyo / Hibiki/ King of Otoko! / Omoidama / ER2 (Eight Ranger) / Itta Janai ka / CloveR / Gamushara Koushinkyoku / Tsuyoku Tsuyoku Tsuyoku / Maemuki Scream! / Samurai Uta(Samurai Song) / Tsumi to Natsu / Panorama / NOROSHI / Niguraki BEAT / Kiseki no Hito / Oto Seyo / TAKOYAKI in my heart / EJ☆Coaster / CANDY MY LOVE by Kyanjani8 / Baki Baki Taisou Daiichi / Black of night / Ima / Seishun no Subete/ Sweet Parade / Musekinin Hero with Tokyo Ska Paradise / Osaka Romanesque feat. Hakase Taro
2018 Limited Edition (3CD+DVD)
・Original case (First Press only)
・Photobook enclosed
※limited items until December 2018
Disc1 & 2 / CD (23 songs)
※same content as Disc 1 and 2 of Limited Deluxe Edition
Disc 3 / CD (23 songs)
Kanjani8 GR8EST non-stop mix by DJ Kazu
Disc 4 / DVD
Footage representing the concept of 201∞ (Eight Year)
Regular (2CD)
・Lyric book
Disc 1 & 2 / CD Tracklist (23 songs)
※same content as Disc 1 and 2 of Limited Deluxe Edition
Kanjani's Eightertainment GR8EST TOUR
July 15: Sapporo Dome
July 21-23: Nagoya Dome
Aug 23-26: Kyocera Dome
Sep 6-9: Tokyo Dome
Sep 15-16: Fukuoka Dome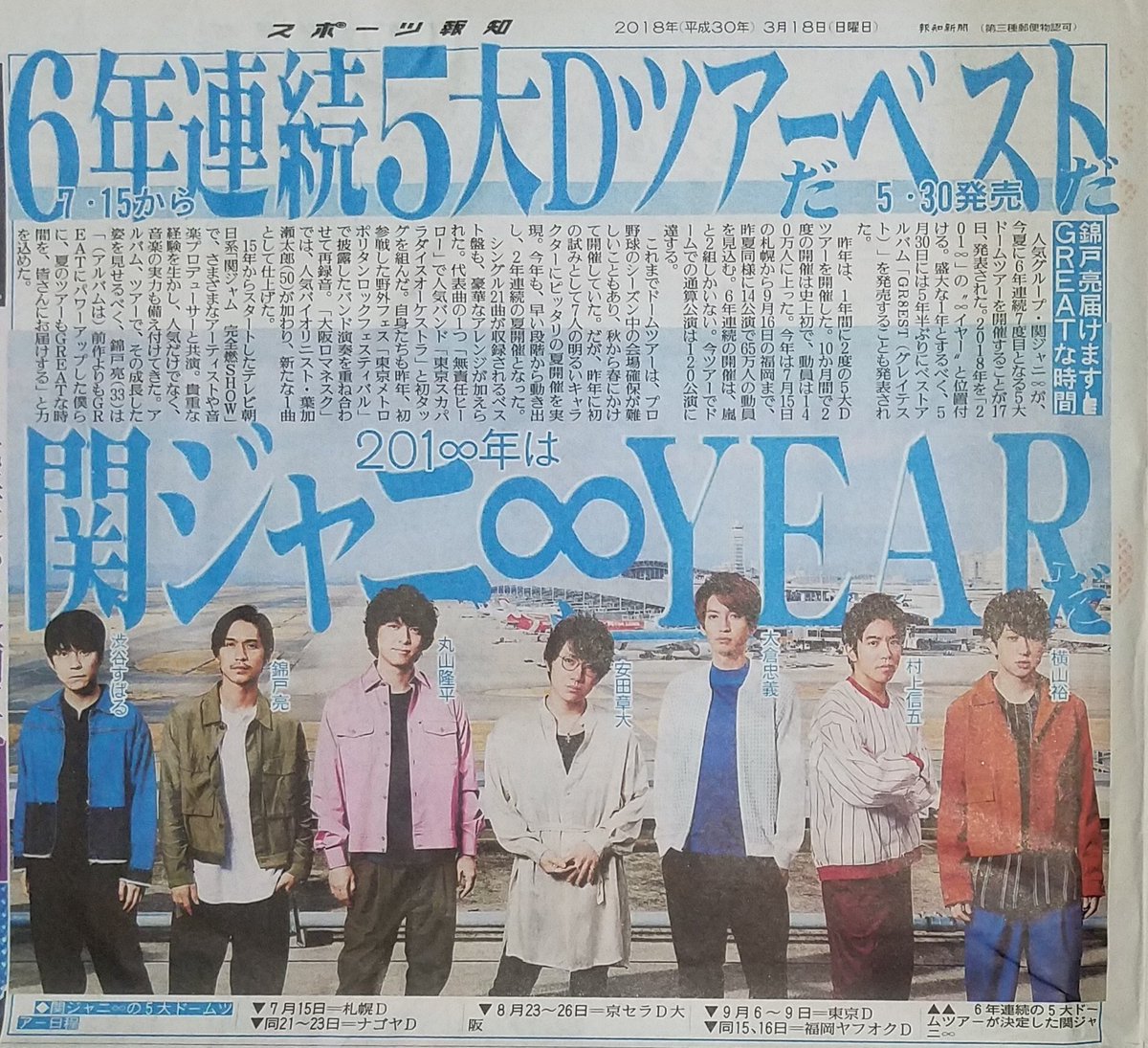 (via Infinity Records, J-net)