Ariane
Billie Idle
bi bi bi bi bi
Returning with a second album, Billie Idle has kept true to their punk 80s sound. Borrowing the feel from prominent rock taste makers from that era (ie: the Ramones, The Clash and of course Mr. Billy Idol) their producers were able to craft another enjoyable throw back listening experience. Every so often though, their J-idol identity appearance does peek through musically (like in "Big Big Wave") and is a little bit of a weak point. But even their weak points in this album can still be worthy of a listen and not a skip forward on the album.
Arashi
Are You Happy?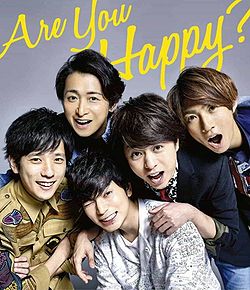 This is easily going to make my list for the top albums for the second half of the year. Arashi has given us a co-hesive, flowing album this time around. The album is filled with their take on a modern version of city-pop. It works and fits them so well because they are mature idols and should be treated as such when given material to perform.Even when it's not in the city-pop genre, the tracks still do not feel awkward or out of place. All around it's just a feel good album.
REOL
Sigma (Σ)
I was looking forward to this listening to this album for a while, since one of the first singles dropped. Sigma, by music unit REOL, is a strong electronic pop album. They had a clear direction they wanted to make and take with their debut album and executed very well. I can't wait to hear what they come up with next.
Sou
iri
groove it
This artist got me by surprise and I fell under her spell since the very first moment. iri's voice is strong and dominant, making her rap flow with indomitable strength while also being so slow-paced it's sometimes barely noticeable. The instrumentals are also top-notch, consisting primarly on her acoustic guitar and electronic sounds alluding to the night, city lights and solitude. Its leading track, "rhythm", is an addictive and fierce song that feels personal since the very first play, making it one of the best songs of the CD; though "Favourite Shoujo" is also becoming one of my most played songs with its playful and electronic hook. If you ever happened to be walking all alone at 3 am in a dazzling city towards a rather distant place and nothing to do but contemplate the essence of the surroundings, "groove it" transforms that situation into music; and if you enjoyed that walk, you'll love every second of it. Woah, that was a rather concrete feeling, wasn't it?
Frederic
Frederhythm
Frederic delights both fans and new listeners with, finally, an amazing 15-track album compiling their recent and not so recent singles since going major, giving a new perspective of the band now listening to them all on the same CD. But the already hit tracks like "oddloop" or "ONLYWONDER" are not the only strong point of the album: while also having a stand-alone value, most of the new album songs slow down the rhythm and the amount of energy put into them, making this long album an even and varied journey. Without abandoning their happy, flashy and energetic signature sound, they keep developing new and different songs and moods throughout the album.
Sakanaction
Tabun, Kaze.
While I have never been a die-hard fan of Sakanaction, I've always enjoyed listening to their better known songs every now and then in a casual way on YouTube. This single may be the turning point of my approach to the band. While it's not too innovative in their usual sound, "Tabun, Kaze." gives off strength and joy from start to finish; and "moon" is a beautiful instrumental in which an ominous vibe plays hide and seek during all the song, creating a mysterious atmosphere, though the final product might have ended up being slightly flat. Maybe it's the hype it built up, or maybe it's the fact that it's the first release I've awaited from them, but I'm in need of more Sakanaction in my playlists now, and thankfully I've a lot of songs to discover.
Ronald
Sakanaction
Tabun, Kaze.
It feels like an eternity since Sakanaction last released something, but it's finally here! This single was delayed a few weeks to get things just right and the final product doesn't disappoint. The title track's sound is so rich, so full, you can really tell they put a lot of thought into how this song was produced. I really like the 80s feel to the song as well. The B-side "moon" is another great track, a mix of electronic music and chanting. It has a 90s feel to it, which I enjoyed.
Capeson
HIRAETH
I really looked forward to Capeson's debut album after hearing his earlier releases. His music is all in English and his accent is really good. Capeson's music is a soulful blend of styles, which is produced by Tokyo Recordings, a label which has quickly become a fave of mine. Some of the songs on "HIRAETH" were previously released, but given a tweak for the album, things like added vocals, extended intros / bridges, etc. These changes added a new depth to songs I already enjoyed.
iri
groove it
iri is a new girl on the scene and I'm glad she's here. Her music very much fits in with today's trend: a laidback mashup of R&B and jazz. But her vocals and the production on this album take it above the trend. Her voice has this husk to it which is a welcome addition to a scene that lacks females with deeper voices. The team of producers on "Groove it", which includes Yaffle of Tokyo Recordings, mabanua, YOSA, and Kenmochi Hidefumi of Suiyoubi no Campanella, have created a sound which is very much city at night, but not a club, more like a small bar, or even a quite walk around town. I look forward to what iri does next.
TOYOMU
Inshou VII: Maboroshi no Kehai
TOYOMU has been making a new for himself recently by re-imagining albums, whether they be by Kanye West or Hoshino Gen. His latest work sees him re-imagining Utada Hikaru's latest album, "Fantôme." It's definitely much more experimental than its source material. Utada and her guests are here, but it's like they're looking in a funhouse mirror. TOYOMU has taken the original songs on Utada's album and cut them up, added new things, taken things away, sped the up, and more. One cool thing is that his version of "Nijikan Dake no Vacance", "Kamome-sama ga Miteru", features a sample of Shiina Ringo's "Koko de Kiss Shite." "Inshou VII: Maboroshi no Kehai" is the Utada remix album I didn't know I needed.
Stream the full album for free here
Let us know what you have been watching or listening to this past month in the comment section below!
1 2