The results of the latest Nikkei Entertainment's "Talent Power Ranking" and its several categories were already posted. The large scatter plots were reduced to Johnnys talents and their groups in the charts below, including the Top 15 Soaring Johnnys list.
For those curious, check out the charts below.

**Please take note that the charts below mostly deal with the Horizontal axis: Recognition or how well known a talent is. If you want to check, the Vertical Axis or Interest Level, all Johnnys groups are at beyond point 60 in the graph. Please also note that the charts are not in Nikkei publication but narrowed down to Johnnys groups and talents as summarized by twitter user shishini_j. Other Nikkei charts such as top 30 Musical acts and Celebrities including Johnnys were already previously posted.
***Sorry not all names are translated, but the colors and group charts should help better identify the names.
Johnny & Associates Groups
Graph below shows the different groups in terms of name recognition (familiarity) comparing year 2015 and 2016. Remarkable increases for V6 who celebrated their 20th anniversary last year and Hey! Say! JUMP who surpassed Kis-My-Ft2 slightly. Other groups are more or less in the same position as last year.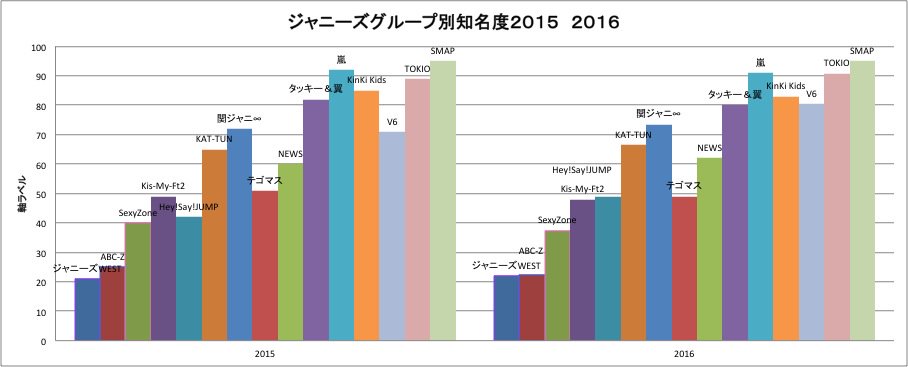 Johnny & Associates Individual Talents
Below is the chart for the different talents of Johnny & Associates (group indicated by color) in terms of name / face recognition. SMAP, TOKIO, Arashi members, and Masahiko Kondo are all at point 85 and above. Higashiyama Noriyuki, Kinki Kids, Tackey and Tsubasa, several V6 members, Kamenashi Kazuya, Yamashita Tomohisa, Nishikido Ryo, Ikuta Toma, Tegoshi Yuya, Murakami Shingo follows after at point 70 – 84.
Several Johnnys Jr also made it to the charts (yellow).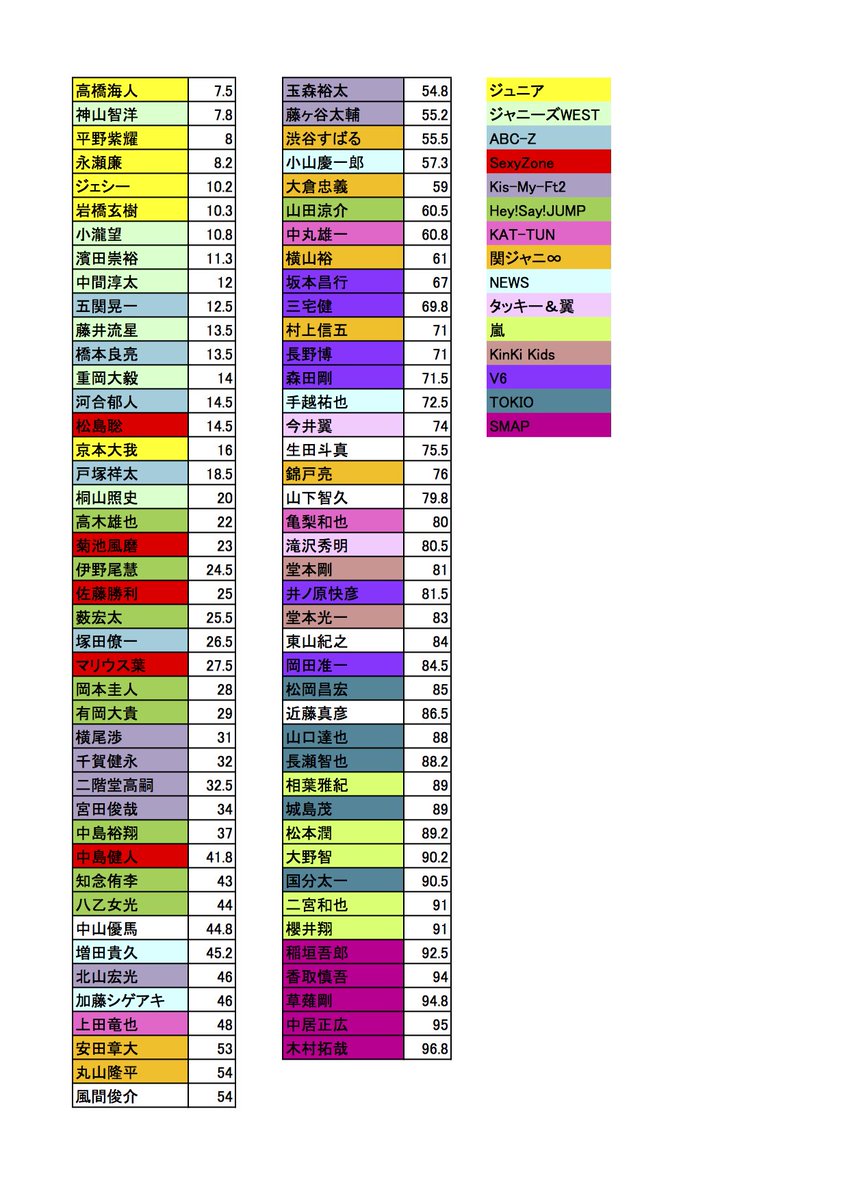 GROUP CHARTS
Below are charts for each group and its group members in terms of name/ face recognition. There is an upward trend for familiarity for most individual members. Several common factors for groups below – most groups have that most popular member/s. In some instances too, these members have higher recognition than their group itself.
KANJANI8, NEWS and KAT-TUN
Experiencing remarkable increases are Kanjani8's Murakami Shingo, NEWS' Shigeaki Kato and Tegoshi Yuya, and KAT-TUN's Nakamaru Yuichi. The respective group's most popular members (Nishikido Ryo, Tegoshi Yuya, Kamenashi Kazuya) remain ahead, similar with the previous years.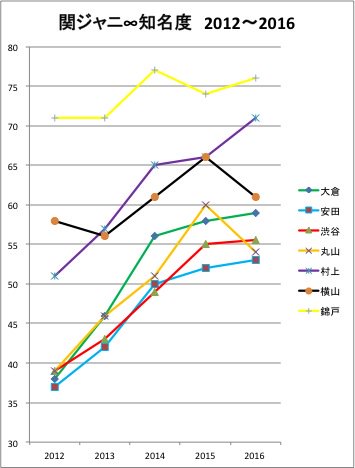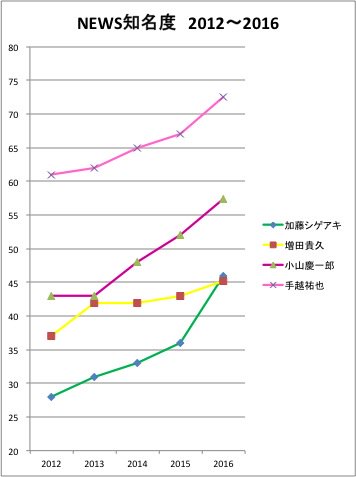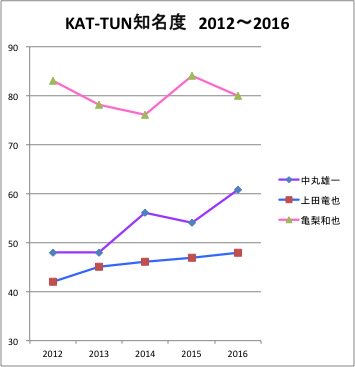 Kis-My-Ft2, Hey! Say! JUMP and Sexy Zone
There is also an upward trend in recognition for most individual members of the groups. Fujigaya Taisuke and Tamamori Yuta lead Kis-my-Ft2. Yamada Ryosuke maintains his lead in Hey! Say! JUMP while all other members managed to chart this time. Nakajima Kento increased and remains most popular for Sexy Zone.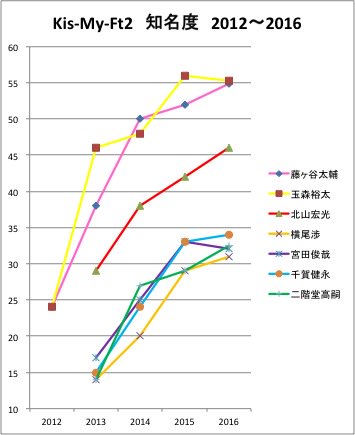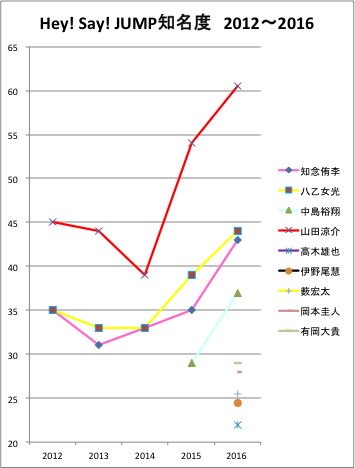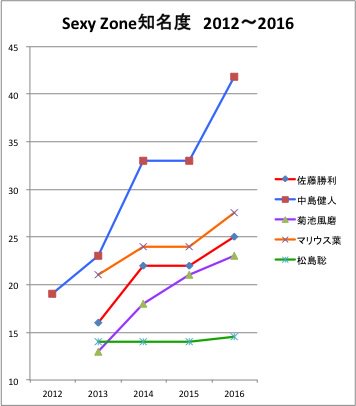 Top 15 Soaring Johnnys Ranking
This is Nikkei's chart of Johnnys talents that made a huge improvement from their past rank due to their increase popularity. Last year, Yamada Ryosuke topped the charts with 6.6 points.