Suiyoubi no Campanella (or Wednesday Campanella internationally) are one of the most talked about recent newcomers to the Jpop scene of recent years. Recently they made the jump to major label Warner and have enjoyed success with two major releases, including this year's album, SUPERMAN.
Now the group have finally published their live release concert release, "Suiyoubi no Campanella Nippon Budokan Kouen ~Hakkaku Uchuu~"- notably on Blu-Ray only (no DVD version). This is a very strong release to pick- their recent Budokan show is undoubtedly their biggest concert to date. While this isn't the first time the show has been seen (it was originally aired on BS-Sky PerfectTV in May) the Blu-Ray does offer improved sound and visual, plus a behind the scenes feature that hardcore fans will no doubt be interested in seeing. Top that off with some incredible packaging (that is something truly to behold); this is a major release that fans no doubt will be clamoring for. So how does the Blu-Ray fare in the end? Read on to find out!
Upon purchasing the Blu-Ray the first thing I noticed was it's presentation; a quite massive box filled to the brim with individual sheets of photographs. It's aesthetically pleasing and quite unique, though I do think over time it may become somewhat annoying to revisit the disc; woe betide anyone who gets the photographs out-of-order or drops them, being un-numbered and text-less. Still, this one major design flaw behind, it's a serious centerpiece item that you will, at least for the first few times you watch it, feel like you know where your hard-earned cash went.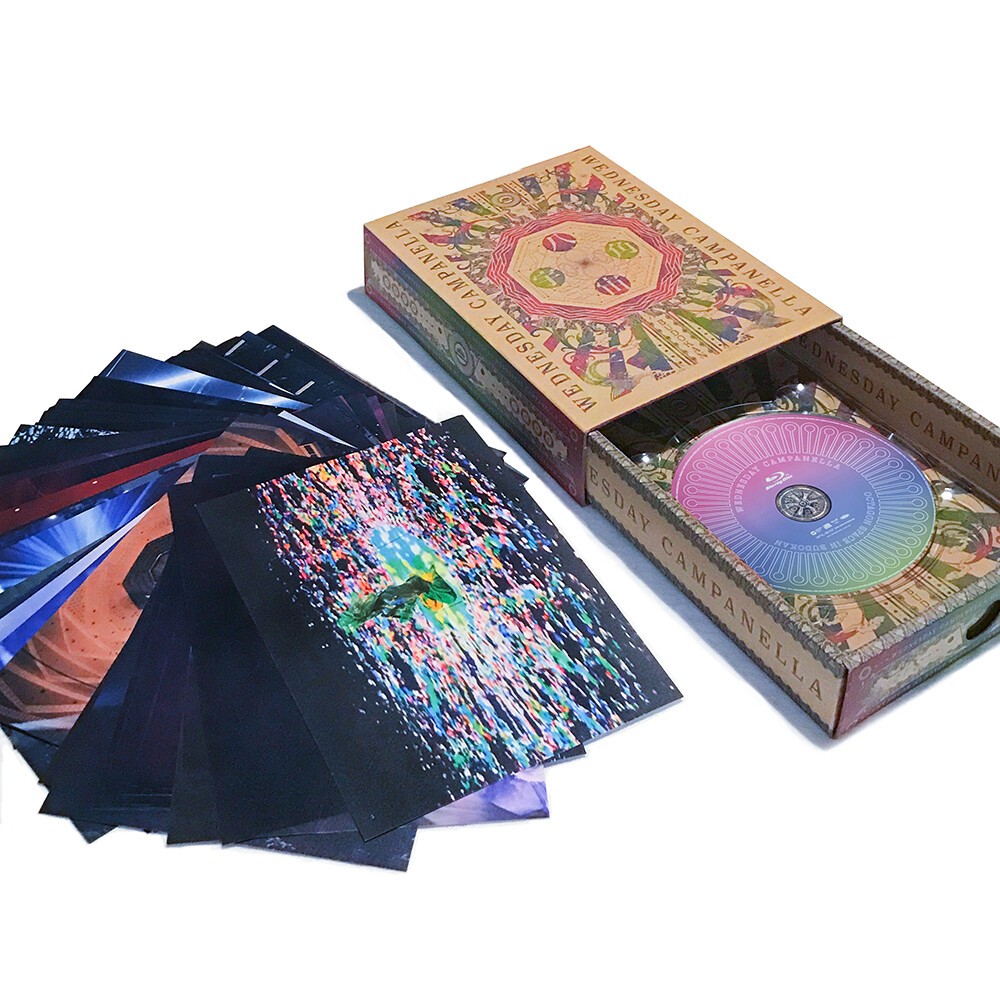 Campanella's fresh take on hip hop and electronic music really is a blast of fresh air. There is a distinctive modernness to it all, invoking the Tokyo streets all the while sprinkling in bits of traditional folk and taking inspiration from famous historical events and people. Whether it be the smooth grooves of Diablo or Yeti or the absolutely massive hard hitters like Ra or Ikkyu-San, the group will take any viewer on a wild ride through it's 24 song set-list.
As for the technical specs- the picture is quite fair all round. There's never any really bad moments but compared to some other live releases out there, it is significantly high in grain. This is likely due to the low lighting throughout- it's very dark, and colors do show a bit of bleed from time to time. It never gets so bad it's unwatchable and the general viewer will likely go through it without noticing much.
A small gripe about the filming technique also: some of the aerial shots are awkward and amateurish, leading it to distract the viewer from the point of focus. Fortunately however, these are few and far between. Nothing that can't be improved on for future releases.
Sound-wise, it's pretty damn good. The whole sound-stage is open, bass booms the way it should for the type of music that Suiyoubi no Campanella create, mid-levels are audible and the mixing sounds good. KOM_I's vocals performance is imperfect but passionate, and considering the amount of movement and running she does, she keeps her composure together quite professionally and never sounds out of breath.
The Hidefuni Kenmochi produced group makes the creative choice to only have front-woman KOM_I appearing on stage as their lives (claiming that male presence is undesirable). However, both Kenmochi and Dir. F appear onstage during the encore in a beautiful rendition of Dracula. With this said, one of the most startling elements of the show is how KOM_I manages to command a fully immersive and intimate experience even though it's a major scale event at Budokan.
Where KOM_I might seem lacking in the vocal department on a traditional scale; she more than makes up for it in pure stage bravado and overt sexuality. It's a testament to the creativity and sheer stage persona that she possesses (along with help from some amazing stage design) and even when she has many performers in the form of dancers, acrobats or even sword wielders on stage with her, she is always the focus of attention. Indeed, it is almost impossible to look away with her streetwise attitude and impeccable style- and that really is, at the end of the day, Suiyoubi no Campanella's main calling card- absolute, unabashed style.
Overall, even with some imperfections, it was a fantastic watch and one that will demand much repeated viewing. Even at its whopping two and half hour run-time that took two sessions of viewing to fully watch the entire show. It's a quality release with plenty of material, great tunes and manages to capture the live experience as best as a recorded show can.
This concert release once again confirms Suiyoubi no Campanella's status one of the hottest emerging pop groups. This show is fearless, potent, playful and embraces everyone that chooses to become an audience member, including us that are viewing at home. Most notable of all; there's a real sense of family here- something that other acts of the genre often leave behind when putting out shows with this amount of spectacle. It's enormous, but homely. Quite something indeed.
Its been said time and time again, but this really is the type of act that promoters should be taking more seriously and pushing on an international level; because quite simply, this is Japanese pop at the most exciting, potent and relevant in 2017.
For fans, this is an essential pickup. You will not be disappointed. An unforgettable experience that we should feel honored to have at our fingertips.